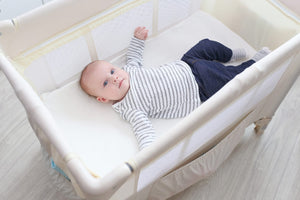 Pack n Play Mattresses : Something we need to know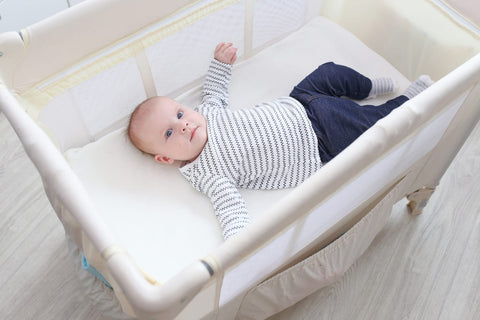 A pack and play is one of those life savers for many parents. But sometimes they are not used 100% because there are some issues you may not know about. In this article we answer the main questions about pack and plays and their mattresses and how to use them as useful tools for your baby's care.
Do I need mattresses for pack n play ?
Some parents put their baby in a pack 'n play in their room, to be as safe as possible from SIDS. But the pack 'n play mattress is basically made of wood underneath and they want a more comfortable mattress for their little one. What we recommend is only to use the hard mattress of the playard because it leaves no gaps in the corners or edges. These gaps can cause entrapment and suffocation.Besides playing on the mattress can enhance safety and comfort.
Yet, if you plan to use one, make sure there are no gaps on the sides. The mattress has to be firm, but it's better than wood. Roll up a sheet and make sure everything is flat and fit tightly.
How to choose a pack n play mattress?
We talked so much about the importance of mattresses, so how do we choose a suitable mattress?Here's what we should pay attention to when choosing a mattress.
Right Fit
No matter which pack n play mattress you choose, one of the most important feature is fit. Because most play yards are almost the same size, the mattresses should be too.
The size selection should be easy, but of course, while everything standard is supposed to actually be standard that is not always the case.
Some pack and play mattresses may be a little smaller than they should be and some play yards are roomier. Irrespective of the size it says it is, you cannot be sure a mattress fits cozily until you drop it into place.
A safe choice is a snug one. You have a good fit if you cannot fit more than one finger between the perimeter of the play yard and the edge of the mattress.
We even urge you to measure your  playard to establish if a standard playard mattress will fit properly. The two most important parameters to consider for the size are the length and the width.
Firmness
Irrespective of which style and fit you choose, you must pick the ideal firmness for your baby. Because soft bedding is mostly thought to be a SIDS risk, you don't want a bed that could obstruct little airways.
Test the firmness by pressing on the middle with your index finger. If the surface indents too easily, the mattress is too soft. The best way to judge is to compare a really crappy pad that is too soft to a nice firm mattress.
Breathable
A breathable mattress is necessary for a playard in order to ensure that the baby is always cool and dry. Some pads are advertised as naturally breathable, while others have actual vents on the sides.Apart from the venting, you should choose a mattress that comes with a breathable and hypoallergenic cover.
Foam or Innerspring
You can settle for innerspring if you want a mattress of average quality. A cheaper spring pad isn't going to be comfortable and may eventually tear, but we think that is a safer alternative to cheap foam mattresses.
Good quality foam pads are modern wonders of comfort, safety, and convenience. They are lightweight and hypoallergenic, and many are quite chemical free. Just make sure you confirm that the materials used are non-toxic.
How do you clean a Pack 'n Play mattress?
Here we offer three different ways to keep your playpen mattress completely clean.
The first is to clean it with a baby wipe, it could remove stains. However, if you want to do a deep cleaning, you can soak it in a tub full of hot water with laundry soap, vinegar, and baking soda.
Maybe you couldn't get the smell of vinegar out and it drives you crazy. In this case, we recommend Oxi clean baby stain stainover spray or powder with no perfume. Simply fill your bathtub and soak the mattress if necessary. This option removes 99% of stains.
The last option is quite simple. Just buy crib sheets for the baby playpen mattress and wash them whenever you need to.
---