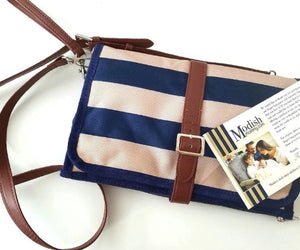 Everything You Need to Know About Changing Pad Liners
 Most of today's baby registries hold hundreds of different items. Feeding supplies, diapers and nursery furniture usually top the list. Since there are so many options out there, it can be difficult to decide what's absolutely necessary and what's okay to skip. I think there's one thing you can't miss, and that's the changing pad liners.
If you're searching for the absolute essentials, make sure to add a changing pad liners to your list. While many people don't think of them when buying baby items, they're actually very important for keeping your nursery clean and comfortable. Learn more below about why you need them, how to shop for them and when to swap them out for new ones. Once baby comes, you'll be glad you have a few on hand.
What Are Changing Pad Liners?
  There's a lot of talk about what a changing pad liner does, but most people think it should do the following.The pad is meant to keep your baby cushioned during diaper changes and protect your belongings from pee and poop that makes its way out of the diaper. ... If poop or pee gets on the cover and soaks through to the liner, you simply take them off and pop them into the washing machine.
Do I Really Need a Changing Pad liners?
Do you need a changing pad liner or can you leave it off your baby registry? While you can certainly use your pad without one, any parent will recommend you add a few to your list. Just like a mattress, the pad will quickly get dirty without protection. When you have a liner over the pad,you will prevent your pad from getting dirty frequently.
Changing pad liners aren't only essential to keeping your nursery clean. They also make the diaper changing process more comfortable for your baby. Soft fabric covers will keep your child warm and cozy even when they're partially dressed. This translates to fewer tears for your little one and less stress on your part! Finally, changing pad liners make your baby's room more stylish. A fresh liner looks great when it matches the crib set. The accent also helps to tie together the room's color scheme.
How Do I Buy the Best Changing Pad Liners?
 We should pay attention to the material on the choice of liners, let the baby feel comfortable is an important standard for our choice of products.Bamboo fiber is a good material.Why bamboo? Bamboo is a natural and renewable source of fiber that is naturally antibacterial and hypoallergenic. It's safe for a baby's skin, unlike other materials.
These bamboo changing pad liners are also waterproof. That means if you put one down to protect baby from a germy surface, nothing from that surface will seep through, and also nothing from baby will seep through either.
 These changing pad liners are super soft too, much like a burp cloth would be. In fact, because these are so cloth like, they would also be great as burp cloths on the fly!
We can use one of these (or more, dependent on diaper changes) when we are out and about, and if it gets super dirty, We will easily stick it in our wetbag and wash it when we get home.
What's really nice about these is they are machine washable and dryer friendly. Bamboo is naturally anti-bacterial and doesn't need to be washed in hot water, unlike other materials, so just wash in cold or warm water and tumble dry low.
Keeping Your Baby Clean, Healthy and Happy
Changing pad covers may seem like a minor detail, but they're actually an essential part of your baby's daily routine. Changing pad liners are one of the easiest ways to keep your little one comfortable while making your nursery more hygienic. Since it's your priority to keep your child happy and healthy, investing in pad covers is a small tradeoff for how wonderful the room will look and how great your baby will feel.
---